Sean Clark
Loughborough

,

Leicestershire

,

U.K.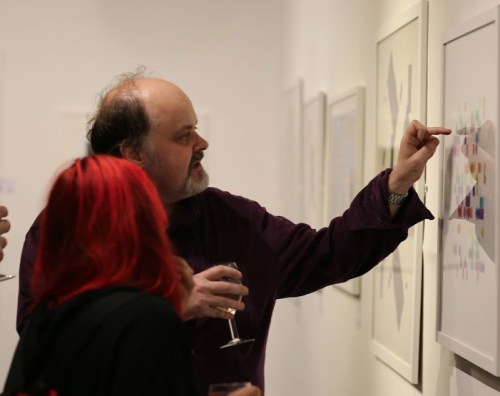 Sean Clark is an independent artist, curator and researcher based in Leicestershire, UK. His artwork explores interaction and connectedness through the construction of audiovisual systems presented on screen, as installations and as prints. He is the director of Interact Digital Arts and the curator of the Computer Arts Archive. He has a PhD in Computational Art from De Montfort University and in 2016 was co-winner of the Lumen Prize for 3D/Sculpture and the Art.CHI Digital Art Prize. He also likes making stuff and working on fun projects with people of all ages - especially if flashing lights are involved!
Recent project reports
Rocket Computer Animation
The MK2 version of the Happiness Rocket now has a short animated video!
3D Printable Models
3D Printable Model
The Happiness Rocket 3D printable model can be found on TinkerCAD. You can download it as an STL file for 3D printing. The large version is 200mm high, the medium one 100mm and the small one 50mm. All three versions have a 2mm body width for strength. You may want to print with a raft to prevent the model from slipping on your print bed.
https://www.tinkercad.com/users/ieilUyfFDH9-seancuttlefish
3D Printed Prototypes
I've been creating various 3D printed prototypes of a physical Happiness Rocket. I'm modelling the rocket in TinkerCad and printing them out on my Ender 3D printer. I'm starting with 1/2 and 1/4 sized models and working up to one that will house the Micro:bit and lights. I'm thinking about issues such as safety, strength and how it feels in the hand.